The COVID-19 virus sucks.
The Coronavirus is also, among many other, sucking life out of the hospitality scene. In Hamburg, Germany and the rest of the world. My city is in a state of (almost) total lock down as I am writing this (Tuesday, March 17th). No public venues, such as bars, cinemas, swimming pools or libraries are allowed to let people in anymore. This shall hold until the end of April.
Until the end of April? Yep. And don't get me wrong: while I am absolutely convinced that this form of forced social distancing is the only way to successfully #flattenthecurve, I do feel for all the businesses that will most likely be HEAVILY affected by such necessary but drastic measures. I also urge everyone to follow the new rules and reduce social interaction to an absolute minimum. But then again, I can't help but think of the bars, restaurants and cafés.
So, in an attempt to add my two cents to the support of the bar and hospitality industry, I want to give a shout-out for ten of my favourite (cocktail) bars in Hamburg. I know, it may seem like a long shot, as nobody can visit them right now. But think of it this way: you now have enough time to plan a visit to each and every single one of them once the quarantine is over. Plus: with all the flights and trips canceled (at least in my case, I had to cancel three already, many more tbd), there's gonna be a lot of money being reimbursed. Money we thought we had spent already, which means we can spend much it in bars, soon!
Ok, in all seriousness, here is a short list of some MUST VISIT bars in our beautiful city of Hamburg:
1. Botanic District, Eppendorf
The "Botanic District" is both a cocktail bar and a fine restaurant with different styles of food. Special: a variety of international/Asian tapas, i.e. small blates with a mix of delicious bites. The cocktail bar is usually very well visited so you better make sure to reserve your seat at the bar in advance! A seemingly endless but very well organized list of classic cocktails and (recommendation:) agave and rum highballs are worth the prep. Head Bartender David and his team will make you feel like home in this beautifully cozy yet stylish neighbourhood bar.
Location: Hegestr. 14-16, 20251 Hamburg
Open: MON-SAT from 5 p.m.
http://botanic-district.de/
---
2. Bar Noire / Tortue, Neustadt
Hotel Tortue hosts precisely 3 bars: Bar Noir, Bar Bleu and Bar Privé. All of them have their own theme but Bar Noir is probably the one I'd go first: quality drinks, great service and regular after-work DJ sessions to unwind on a weekday evening. The guys behind the bar: the "Turtle Gang" (tortue = French for turtle), always up for a joke while never missing the necessary level of professionalism. Check out their Instagram feed @homeoftheturtles to see what I mean.
Location: Inside Hotel Tortue, Stadthausbrücke 10, 20355 Hamburg
Open: daily from 10 a.m.
https://tortue.de/en/bars/bar-noir.html
---
3. The Chug Club, St. Pauli
"Go Chug Yourself!" – located right next to Hamburg's famous red-light district, that's the slogan if this agave-centred bar which comes along with quite a different cocktail concept: craft cocktails are served in relatively little glasses (=chugs) so you can try more than just one or two since they are smaller, thus contain less absolute alcohol and are cheaper. If you are new to the tequila and mezcal game you shouldn't miss out here! They even serve a "chug flight", consisting of a 5-drinks cocktail menu served alongside a refreshing beer to quench any thirst that's left – a no brainer!
Location: Taubenstraße 13, 20359 Hamburg
Open: daily from 6 p.m.
https://www.facebook.com/TheChugClub/
---
4. Clockers, St. Pauli
Thinking about going out in the famous "Reeperbahn" area on a Friday night but fancy something better than pooly mixed drinks at home or in one of the hundreds of dive bars? Clockers is your place to be: Extremely chilled atmosphere, a DJ and nicely mixed drinks. One of the first bars in Hamburg I really liked when I moved here almost 4 years ago. The standard menu is relatively short (but of good quality!), however the people behind the bar will mix you anything you ask for, depending on your personal preferences. Bring your friends and have some drinks, preferably on the lounge-like sofas upstairs!
Location: Paul-Roosen-Str. 27, 22767 Hamburg
Open: TUE – SAT from 7 p.m.
https://clockers.hamburg/

---
5. Drip Bar, St. Pauli
Dark, cozy and an extremely creative drinks concept. This is probably how I would descripe the Drip Bar, located between the aformentioned red-light district and the river Elbe. It's an authentic speakeasy, coming in with their own drip infusion cocktails. Drip infusion? Well, they use a cold brew dripper to infuse spirits (any spirits) with all kinds of herbs, spices or other flavors. Really, it's too genuine to properly explain in just a few lines. Go there and check it out.
Plus: they are among the first to offer a "Home Drinking" service while we're not allowed to go there!
Location: Antonistr. 4, 20359 Hamburg
Open: MON – SAT from 6 p.m.
https://www.dripbar.de/
---
6. Tipsy Baker Bar, Neustadt
The guys and girls here certainly made "Herrengedeck great again". Herrengedeck? It's a German serve, consisting of a beer and a shot (traditionally Korn), accompanied by sour dough bread, butter and pickles. No joke, this serves as a whole meal! Tipsy Baker Bar, located right in Hamburg's center, doesn't only serve Korn but Herrengedecks that combine any spirits from Akvavit to Rum and Mezcal with a broad range of craft beers. Nice concept, extremely cool place and additionally all the good craft cocktails you can think of 😉
Location: Esplanade 29/30, 20354 Hamburg
Open: TUE – SAT from 5 p.m., SUN from 6 p.m.
https://www.facebook.com/tipsybakerbar
---
7. Drilling, Hamburg-Bahrenfeld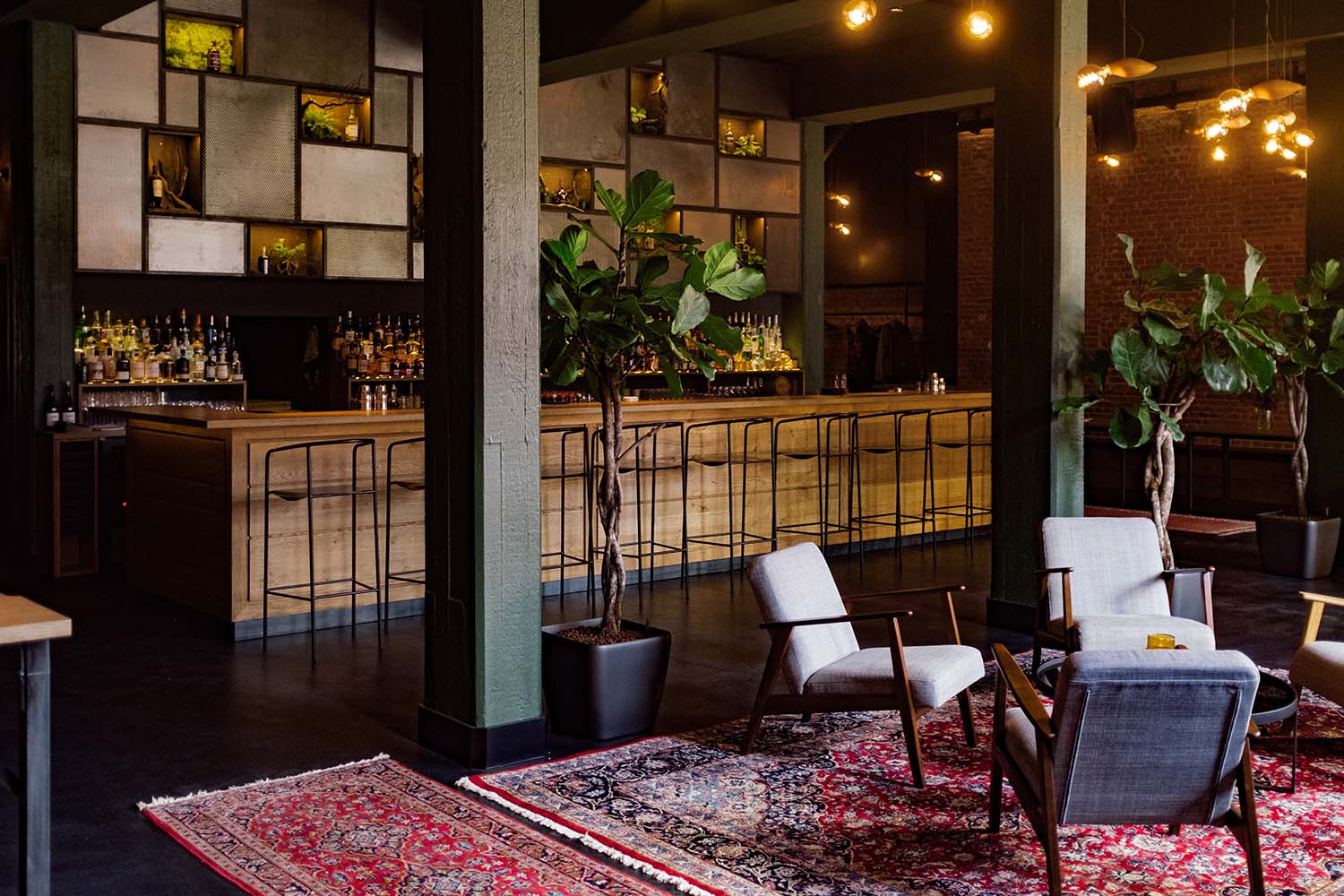 Owned by the people behind Clockers Gin and the Clockers Bar, Drilling is located a bit off the grid in Hamburg-Bahrenfeld
… which proves to be a lucky shot for me, as I happen to work just 5 minutes walking from the red brick-stone building where Drilling opened mid-2018. It's not just a super stylish cocktail bar with sleek design interior where you can "create" your own cocktail by rolling a pair of dices. Neither ist it just a bar AND a café. It's a bar, café AND distillery, all in one! Guess what gin (among much much other stuff) is being distilled here… 😉
Location: Friesenweg 4, 22763 Hamburg
Open: TUE – SAT from 8 a.m. (coffee), SUN from 10 a.m.
https://www.drilling.hamburg/
---
8. Fontenay Bar, Rotherbaum
Located on the top flor of one of Hamburg's latest and most exclusive hotels, this bar promises to be pure luxury. Drink-wise, it certainly is. Decoration-wise, you won't be disappointed either. So 'what's the catch then?', you may want to ask; good question. Once you visit this place, you will quickly realize that it's not about the glamor but all about flavours and class craft cocktails, let alone the fact that you can literally create your own vermouth with their "Wormwood Wagon". Sounds good? Well, they didn't earn the 2020 Mixology Bar Award for 'Best Hotel Bar' for nothing…
Location: Inside Hotel The Fontenay, Fontenay 10, 20354 Hamburg
Open: MON – THU from 6 p.m.
https://www.thefontenay.com/restaurants-bar/fontenay-bar/
---
9. O.V.A.L. Bar / Fraser Suites, Neustadt
If you have a sense for Art-Deco this is YOUR place. White marble, golden furniture and dark brown and black details characterize this bar which is located inside the Fraser Suites hotel which opened just in September 2019. The regular drinks menue offers a signature serve for each of the last ten decades, their food pairings are little pieces of art – just as the bar itself. Really, this is a place for all the design lovers of the early 20th century. It's still comparably less know, so make sure to rank this high on your go-to list. Soon.
Location: Inside Fraser Suites Hotel, Rödingsmarkt 2, 20459 Hamburg
Open: daily from 3 p.m.
https://hamburg.frasershospitality.com/en/facilities/oval-bar.html
---
10. Le Lion, Altstadt
This place is the one and only "Cradle of the Basil Smash" and needs no introduction.
Le Lion is arguably thé number 1 destination for any cocktail lover in Hamburg and probably even beyond. Not only due to the basil drink has it reached a national and international cult status. Joerg Meyer and his team know how to welcome guests: sparkling champagne, the finest spirits and top-notch hospitality make this place a one of a kind experience. A personal highlight is the "Außengehege": a small pop-up like bar that opens during summertime, right in front of the bar's entrance!
Location: Rathausstr. 3, 20095 Hamburg
Open: daily from 5 p.m.
https://www.lelion.net/
(Header image: falstaff.de)