The Facts
Origin: Munich, Germany
Type: New Western
ABV: 43 %
Bottling: 500 ml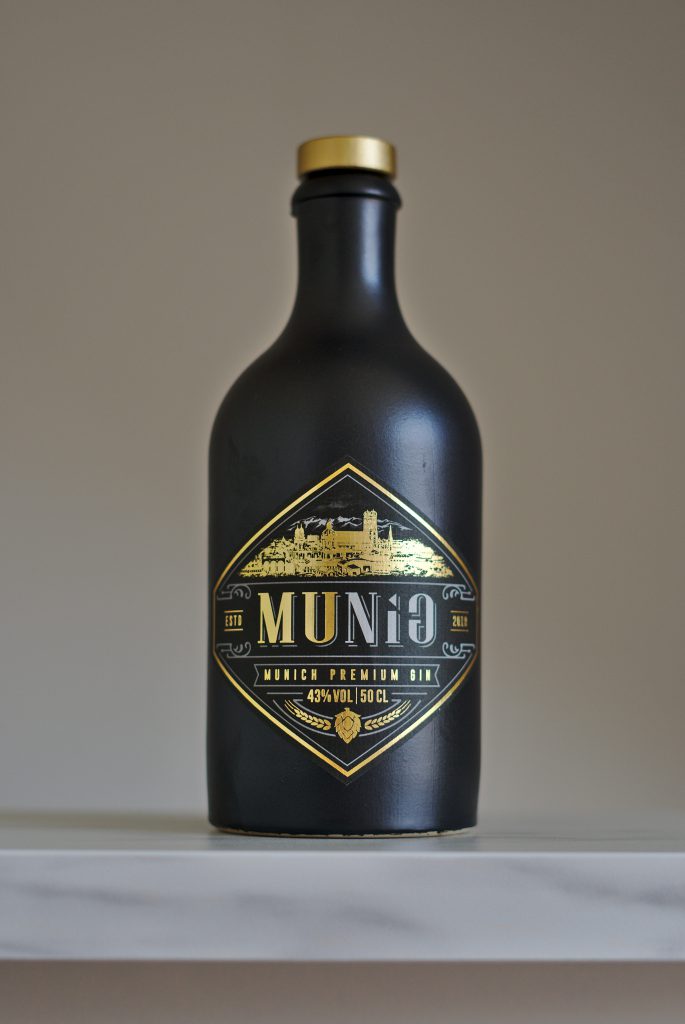 "A declaration of love to the most beautiful city in the world and the northernmost city of Italy – Munich", that's what the makers of Gin MUNiG claim their baby to be.
Well, the first two things that come to my mind here, are: I also live in a city that claims to be the most beautiful in the world (Hamburg). And I have visited Munich way too few times to properly judge if it's really a little Italy or not. But a taste description of "Bavarian-Italian Dolce Vita" sounds promising in any case, so let's dive into this one…
Nosing
Quite a mix of aromas that come to my nose at once, as I first smell the Gin MUNiG
I get something fruity, berry-like notes, followed by lots of citrus and a noteworthy amount of spiciness of pepper and piny juniper
It is overall a very warm and summer-like impression, supplemented by some spicy edges
Neat Sip
Other than the nose, the first mouth feel is rather fresh and quite sharp
Despite the fact that it's "only" 43% ABV, this Gin MUNiG does come with a punch!
The juniper is there but not overly dominiant. It's rather the spicy and especially the fruity notes in addition to some fresh citrus which make the neat taste of this drink
I think some ice wouldn't hurt here, so…
Adding Ice
That is good. The dominant spices don't fully disappear, but the overall composition of botanicals seems to balance much better once this gin gets cold
The citrus notes become even fresher and a mouthfeel that evolves from fresh to spicy to quite dry is the result
To my own surprise, the ice also reduces the level of sweetness to a considerable extent. The berry-notes are not as present anymore, which I personally like, as I must say
I miss a stronger taste of juniper, still. But I think this is just not Gin MUNiG's intetion. It's all about the "Dolce Vita"… let's try with tonic!
… And Tonic
First up: Fever-Tree Indian Tonic

At first, this mix tastes surprisingly herbal. At least to a larger extend than what I would have expected
The taste, once again, evolves from herbal/spicy to more fruity and sweet, after a while. I like that a lot
One more thing is super evident here: the colder the G&T, the better this combination tastes

Second: Fever-Tree Mediterranean

As expected, the Mediterranean tonic accentuates the herbal and "earthy" notes of Gin MUNiG – which is great, if you like those (I do, by the way)
I wouldn't describe this mix as overly complex, but very solid for what it is. No big surprises here; a herbal/spicy gin with a herbal tonic water wouldn't be expected to be fruity, would it?

Alternative: Fever-Tree Premium Dry

This mix is clearly lacking balance
More precisely, it is lacking a bit of sweetness, which should not be a huge surprise after the tasting notes so far and considering the fact, that the FT Premium Dry is low in sugar and overall sweetness
The tonic does bring a certain acidity to this G&T, which for itself is warmly welcome. But then again, the mix is overall a bit too earthy for my personal taste
Summary and Overall Impression
The Gin MUNiG describes itself as an "Ode to the most beautiful city in the world […] and the northernmost city of Italy" – well, I don't know it any better so I won't say it's not true
For me, this is a gin that's intriguing and a bit difficult to grasp at the same time
It has so both fruity and herebaceous touches to it, and it's nice to see how you can tickle both when adding different choices of tonic
To experience the full Dolve Vita experience, Gin MUNiG shall definitely be tried in some Italo-inspired drink such as a Negroni or some summery Spritz-variations! That will work, for sure!
A full list of botanicals isn't available but some are:

Blueberries
Italian lemon and oranges
Pomegranate seeds