"The Gin Day?", I hear you ask. Italy has been known for its fine wine, dining and aperitivo culture, yes. The city of Milan is rather the perfect example than an exception to that "rule". But what about gin and specific gin events in Italy's capital for fashion and design? I recently went on a plane to find out…
First Things First
My trip to Milan had a very specific purpose: the city's most important fair for your beloved juniper spirit, called "The Gin Day", which is celebrated once a year. You may wonder how I came up with exactly this event? The answer is as simple as that: Vittorio of GinItaly – one of the most passionate people about gin that I have met internationally – kindly invited me to visit the event and report about it. Since he is good friends with The Gin Day's staff, he even managed to get me booked into a nearby hotel. Therefore, and for his help along the way, I really want to thank him in the very first place – Grazie, ragazzo!
'The Gin Day' Numbers
Even though I hadn't heard of the event before (blame me), I was impressed by reading about its numbers:
The 2019 event was its 7th edition
3,015 visitors over two days
111 journalists and bloggers
52 companies displaying
151 brands at
71 booths
53,000+ sampling sips
3 main bars (G&T, Negroni and Martini)
… to mention just a few
You see, it's an event really too big not to know. Well, now I do, thanks to Vittori
Who should visit 'The Gin Day'?
As I had no previous expectations towards what the event would be like, I was surprised in many ways. No matter if trader, blogger, bartender or customer, the present brands interacted with everyone who stopped at their booths.
1. Gin Enthusiasts
I took a first spin through the MegaWatt Court as the show had just begun to get some photos. The venue filled rather slowly, so I was able to chat to some of the exhibitors as well. While recognazing many globally known players such as Hendrick's, Monkey 47 or Schweppes, I was rather looking for something different. When going to a local gin event, I want to get to know local producers. In this case, I was curios to see which stars may be rising on the Italian gin horizon.
Those were the locals I kept best in mind:
Ginepraio (Organic Tuscan Dry Gin): These guys introduced me to what may be the smoothest Navy Strength Gin I've tried so far. Being from a wine producing family, they are the first to "age" their London Dry style gin in an clay amphora. Normally you would store wine in these vessels. In this case, it mineralizes and smoothens the overproof gin in a way I hadn't known before, not comparabel to wood barrel aging. You may really want to give this a try as my limited knowledge can't fully describe the experience.
Winestillery: These fellows are from the region of Chianti, one of Italy's top wine destinations. They brought to gins to The Gin Day (the sweet vermouth was unfortunately missing) of which the Old Tom convinced me most. I confess to not have a single Old Tom Gin in my home bar, but this could really be my first. Guys, if you read this, better make your way to German stores quick!
Gin Kooper: A gin just how I like it – juniper and light citrus, made by a master of his craft, bottled and finished by hand. Andrea Gallottini had worked in the industry for decandes as a destiller for other brands. He thankfully decided to start his own project now and to little surprise this gin is stunning. So is the bottle, hand painted by his wife. A great discovery to make!
That Special Moment
Besides some (personally) less known local brands, I was genuinely happy about one specific encounter: Beefeater's master distiller Desmond Payne. This true master of his class was there not only to give an officially speech, but also to joke around with the little men aka. yours truly. I felt like a kid on Christmas Eve when I bumped into the legend at their booth. One guy had just asked about his personal favorite Beefeater Gin as I interrupted "Crown Jewel" – that caught the expert's attention! "Quite honestly, Mr. Payne, I have to say that you are responsible for that I started drinking alcohol", I jokingly accused. "Well", he replied, "in this case, I guess that's a good thing, buddy!". English humor done right. A discussion about the role of Pink Gins and potential 200y-special edition releases in 2020 followed until I left with a mandatory souvenir picture: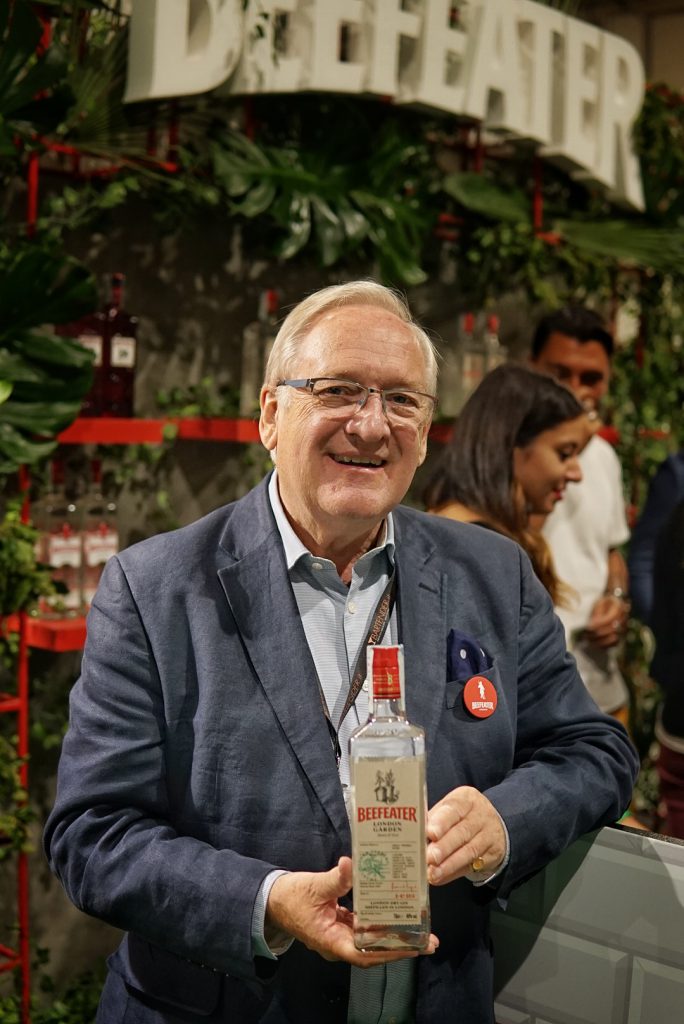 2. Bartenders and Mixologists
The Gin Day Milan was literally full of bartenders. At the three main bars, at the booths or among the visitors. News and insights for the experts of the industry were plentyful: new brands, intriguing master classes and business talks and – last but not least – a number of internationally reknown top bartenders from around the globe.
From globetrotter Simone Carporale introducing a brand new Venezuelan gin to Mauro Mahjoub explaining how he became the (un)official Negroni King. Or let style icon Erik Lorincz prepare you a tailored Martini during his guest shift and chat about the art of mixing them. Few times have I seen so many of the industrie's great shapers in one place, while all of them seemed super approachable and up for talks.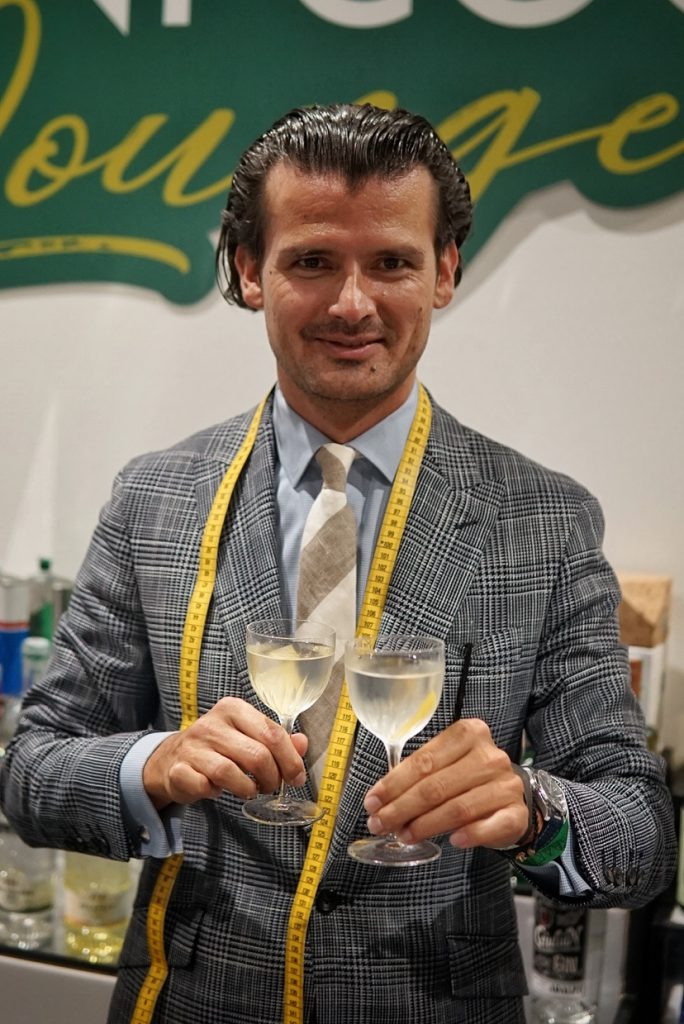 All around, The Gin Day is somewhat of a bartender's heaven. This comes with little surprise as it is held by the people of bartender.it. Bartender.it was originally co-created by Agostino Perrone, Dario Comini, Dom Costa and Luca Pirola. Guys who do know the industry well enough. While celebrating its10th anniversary, bartender.it has become one of Italy's leading online magazines for bar culture and mixology.
The two days were packed with master classes and speeches

Especially the bartenders were absolute top level
3. Gin Brands
If you are a brand or gin producer, concider the following once again (summing up):
Several thousand guests (consumers, bartenders, press) get to see your product
Absolute experts of the bar and hospitality scene (worldwide) get to see your product
Traders, Italian importers and distributors may see your products as well
You get to exchange ideas and mixing suggestions with the best of your class
You can spend some time being a visitor yourself and just soaking up the atmosphere – which is great, I promise
Now, do you sell gin there? I have seen a gin kiosk right at the entrance where visitors were able to buy merchandise and gin, yes. Will you sell a lot? I don't know, but my best guess would be a "no", as it's not a fully intended end consumer fair.
What does it cost to participate? I can't tell you as I don't, however I'm sure the people of www.bartender.it will be glad to provide you with all the info. Furthermore, I do have a considerable option B for you, with which I am coming back to the start of this post: get in touch with me or Vittorio D'Alberto. Vittorio has opened his own Gin Display this time and is likely to do that again next year. At his booth, he presents and samples a variety of gin brands which do not have a proper space themselves. This way he gives room for even the smallest brands to take part in the event with little to no investment.
Summing Up The Gin Day
I went to Milan with little expectations of an event I hadn't known before. A day later, I left Milan after realizing how much I still have to learn about the world of mixology, bartending and spirits in general. Taking pictures of gin, talking to producers and blogging about that (oh, and drinking it!) is certainly not all just yet. Therefore I am very much looking forward to next year's 8th edition of The Gin Day in Milan, Italy.
PS: Rumor has it that the next event will take place in May 2020 already…