It is always cool to visit a distillery, I believe. Yet it is really a special thing for me to visit the distillery of a brand I personally admire. And while I do like a number of gins, I would not precisely say I "admire" all of them. One of these special brands is Rutte Distillery – a true Dutch heritage of Gin and Genever. And even more? I went on a plane to find out…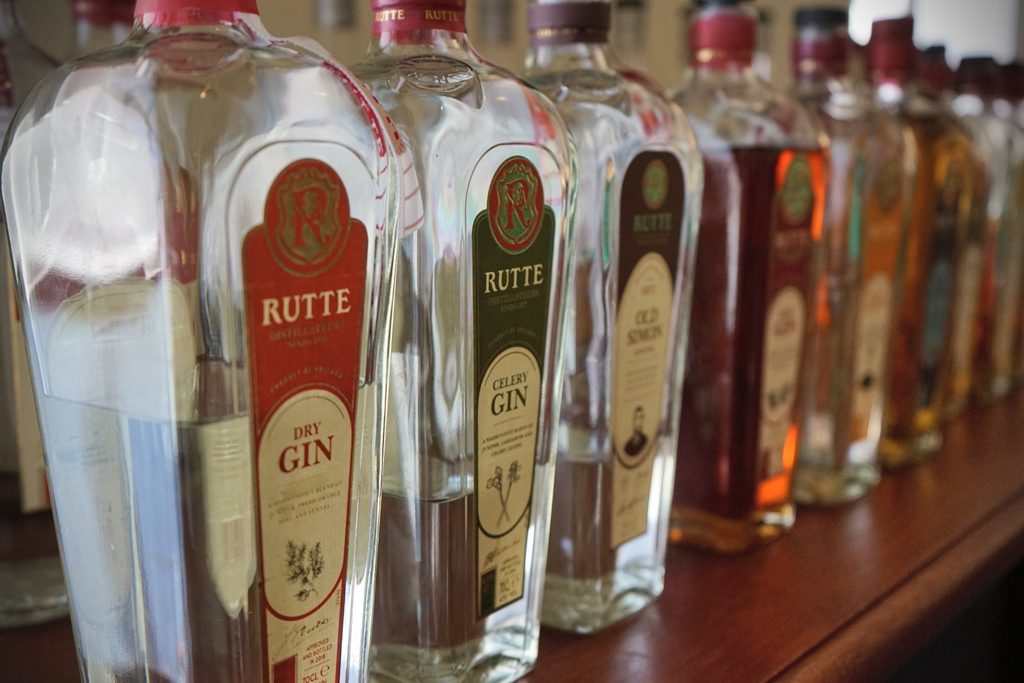 Taking a day and a half off work to visit spirits makers in the Dutch province? Hell yes! Beginning of July I was invited by the people of Rutte Distillery to participate in a little press trip alongside Dutch and international wine and spirits journalists (and bloggers).
Day One
I took a plane from Hamburg to Amsterdam, just to rush through Schiphol Airport to find my taxi. The ride to Rotterdam (ca. 65 km) was supposed to be quick, but traffic was quicker. It took us nearly two hours to get to the venue for this first evening, Floris' kitchen, where most of the group were already waiting.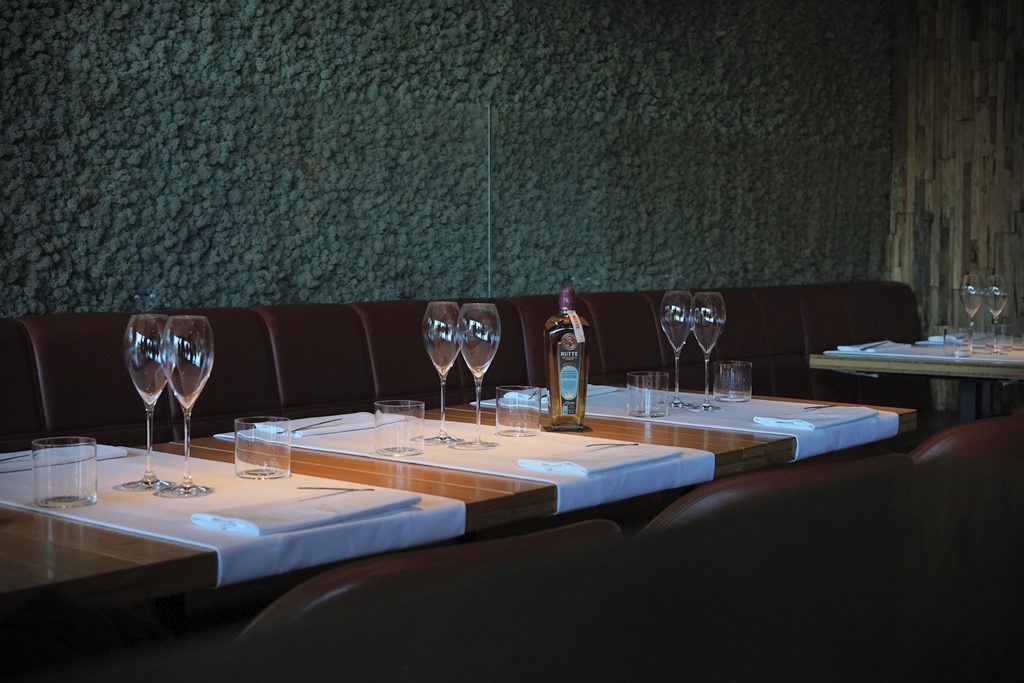 Food Pairing "In De Keuken van Floris", Rotterdam
Rutte Distillery's new German Brand Ambassor Julian Klotz welcomed everybody with a glass of Champagne. Even though I'm usually not the guy for bubbles, the fizzy stuff was quite a treat in the early evening sun. "In de Keuken van Floris" is (as its Dutch name suggests) an open-kitchen style restaurant. The fact that you basically sit right next to the operating staff requires a perfectly orchestrated workflow. Owner Floris and his team executed this to perfection while they served us no less than a 9-course dinner…
To complement the carefully crafted dishes, the team had prepared 6 drinks (and wine) off Rutte's seasonal drinks menu, together with the brand's "chief mixologist" Laura Schacht. Here are some impressions:
Rutte and Food Pairings – a great match
Apparently this was not the first food pairing Rutte Distillery had hosted. Firstly, everything was well organized and the atmosphere was great. Good talks with fellow bloggers from the Netherlands as well as professional food/drink photographers from Hamburg. Secondly, the drinks matched the corresponding food just perfectly. One could really sense that food pairings increasingly become a thing and Rutte managed to master these even before the recent boom. Why am I saying this? Well, because by now I know that this was not my only Rutte foodpairing. I was since invited to an inaugural event at Hamburg's new Fraser Suites hotel and – spoiler alert – something cool will be happening during the upcoming Bar Convent Berlin (October 7, 8 and 9). Stay tuned!
After dinner we headed towards central Rotterdam for a night cap (or two) at the "Dr." cocktail bar. I truly loved this place: small and intimate, no phones or pictures allowed (sorry) and a barkeeper who managed to cope with a dozen clients at once even late. Definitely a place I want to come back to. Shortly after, a stressful and packed day ended in my heavenly bed at the historic and beautiful Hotel New York in Rotterdam…
Day Two
Visiting the Rutte Distillery in Dordrecht
The small Rutte Distillery is located in the beautiful town of Dordrecht. We got there on day two after a 25 min water taxi ride (which was a literally cool experience).
As nice as the ride was Dordrecht itself: beautiful old houses, canals, boats and splendid sunny weather awaited us there. So did Myriam Hendrickx. Myriam is Rutte's 8th generation master distiller and in charge there since 2003. She first took us on a walk through the Netherlands' oldest city which used to be one of the hotspots for Dutch distillers, years ago.
Thereafter we went straight to the distillery. Or the shop? Or museum? Basically it's still the original distillery from almost 150 years ago. However the family business managed to build in a little store and some antiquities from the older ages, all under one roof – extremely steep stairs included – which makes this a place for some gin and genever treasure hunting.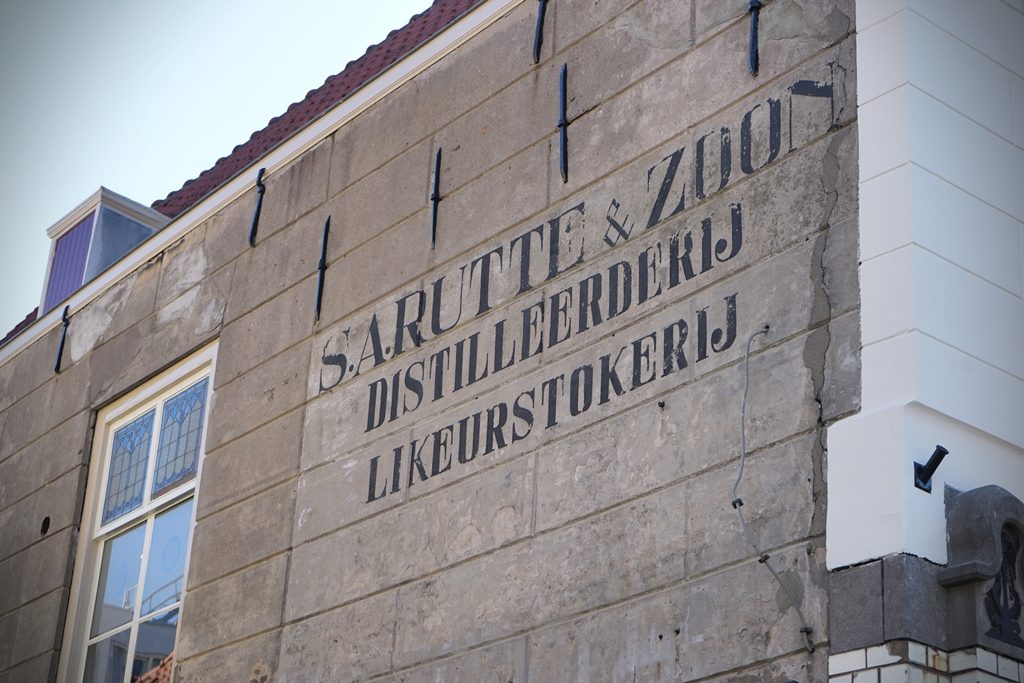 About Genever and Gin
After a brief introduction to the brand's tradition dating back to 1872, we moved on to sample genever and gin. I don't need to tell you that genever is gin's "ancestor" (or father, as they say at Rutte) – you know this already. However, to see, taste and learn about the different genever types was truly enlightening. Distilling method, malt wine percentage, added botanicals… all these experiments Myriam is doing lead to an incredible range of products. Currently somewhat around 65, going from genever over gin to liqueurs, as we learned. 65 Products? Well, the term is not to be taken 100% literally, as some of them are exclusively sold at the distillery while others are custom made for restaurants, for example. Nonetheless, it shows what a fun and at the same time extremely demanding profession Rutte Distillery's master distiller is executing.
Rutte' s"Vulkaan 1 – 4″
Over to my personal highlight of that day: the wooden bicycles! I'm joking, of course this was a highlight, as well (see below). However, as a gin fanatic, my heart is sharing a beat with the distillery's heart: the copper stills. Four of them in total, all going by the name of "Vulkaan" (translates as volcano – who would have guessed).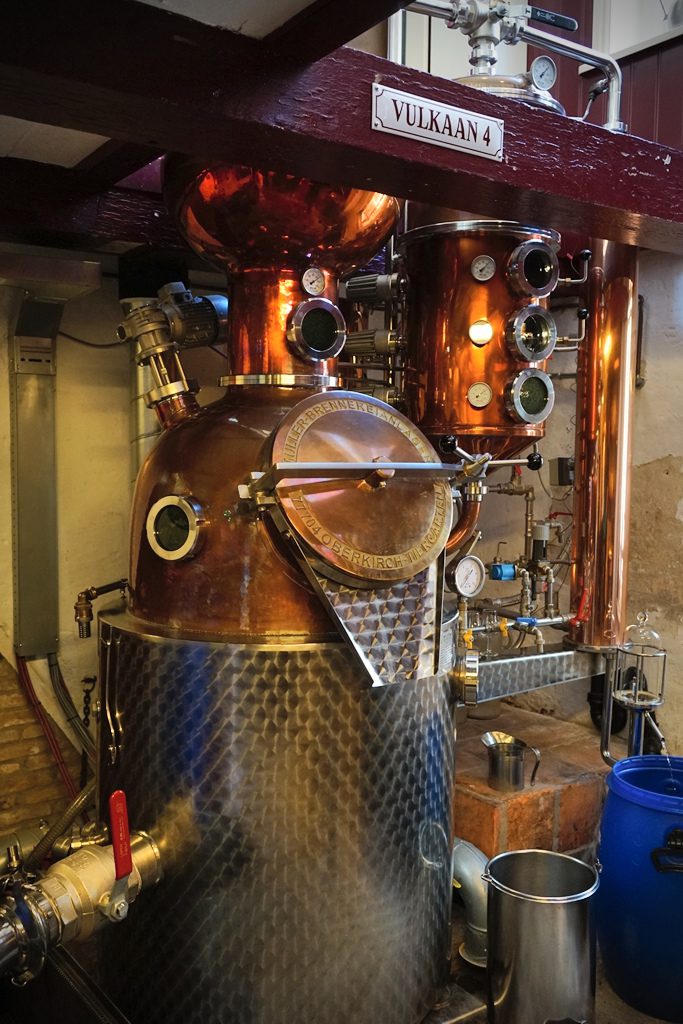 De Vulkaan 1 is the original still dating back to the days of founder Simon Rutte. Believe it or not, it is still being used today for smaller batches or test runs on special distillates. The main still, however is the newest one. Vulkaan 4 was custom made in Germany in 2013. Despite their name, the stills are not very huge, which was a bit surprising as you may have expected bigger vessels from a brand that's basically available around the globe by now. However this once again displayed the true craftsmanship behind every batch of genever, gin or liqueur here.
The building is just too tiny

Custom made in Germany

Where all the magic happens

Myariam's laboratories

Genever Barrels

Simon Rutte's original desk

… and some original recipe books
Fun Fact: Dordrecht is a city with narrow streets and tiny spaces between houses. As it once counted 200+ independent distillers, a law was established that remains until today: almost no neutral alcohol can be stored within the distilleries as the risk of fatal fires (for the whole town) was/is just too high! Therefore, Rutte keeps most of their base spirit in external warehouses up until today.
Dordrecht, Nieuwe Haring and back home
A day at the Rutte Distillery wouldn't be complete without a bit more of Dutch tradition. Coincidence or not, the "young herring" week just happened to be when I visited. In order to experience the full thing, we each grabbed a bike (no more need to mention now which model I selected) and went for a bite of pickled herring with a shot of genever. Grab the herring by its tail and eat the whole thing with a bunch of chopped onions. Then sip and enjoy the genever out of a tulip glas (enjoy – you don't necessarily have to chug it!).
Herring is probably one the most opinion dividing Dutch dishes, as people either hate it or love it. If you ever tried this local delicacy I am eager to hear your thoughts. If you didn't do so yet, I very much recommend you putting this on your be bucket list. And if I may add one more expert suggestion to this: combine your herring experience with a visit to the Rutte Distillery – I'm sure you'll love it just as much as I did.
Disclaimer: at this point I want to mention that my trip to Dordrecht was organized and paid for by the people of Rutte Distillery. I thank them for giving me the opportunity to visit the distillery and learn more about their brand and products. Despite the fact that I didn't have to pay for this trip myself, the article you just read and the opinions I expressed were in no way influenced by Rutte Distillery or anybody else.