Monday, October 7th 2019. Day one of this year's Bar Convent Berlin, one of the most important shows for bartenders and professionals from the drinks, spirits and bartending scene. How fitting to be around the people of Rutte and De Kuyper, amongst the most experienced and best known brands in this industry. Together with my gin buddy Jan (gingingin.de) I followed the brands along for a day, which gave a lot to talk about.
Rutte and De Kuyper Booth at BCB 2019
The booth was located in Hall 7, one of the two main floors of Bar Convent which took place at Berlin's "STATION" for one last time (more on this in a different blog post). Two fully equipped bars, top bartenders from around the world and the best spirits and liqueurs to get creative with. And, especially compared to other exhibitors, they held everything very classy. No bright neon colors or flashing lights but decent, wooden furniture everywhere. Truly representing their Dutch tradition here in Berlin – great!
About Rutte Distillateurs
I have established a relationship with Rutte in the past months/years of which I consider myself very lucky. I feel humbled to call these people my friends, as you may have noticed by now. Rutte Gin and Genever represent the true craftmanship of creating real spirits, as passionately as this could be done.
Amongst the many products they are continuously inventing and re-inventing, four of them are generally available to the German market: Rutte Celery Gin, Dry Gin, Sloe Gin and Old Simon Genever. And here is the first news: their very own (and tasty) "Old Tom Genever" will gradually replace the Old Simon Genever in 2020. Old Tom Genever? Yes, Rutte's master distiller Myriam Hendrickx re-interpreted this recipe by Anton Rutte which dates back to 1918. Fresh nose with lots of citrus and coriander while cinnamon, ginger and obviously maltwine flavours give a warm mouth feeling. I was able to try this exciting hybrid between an Old Tom gin and genever while visiting the distillery in July, did again on Monday and would very much suggest you to do the same when you get a chance.
If you want to know more about Rutte, their products and distillery, head back over to the blog post about my trip to Dordrecht here.
About De Kuyper Royal Destillers
324 – this is the impressive number of years De Kuyper have been elaborating spirits and liqueurs since 1695. Not only did the industry's most important representatives recognize De Kuypers' work many times in the past. What makes this family business stand out is their proximity to the bartenders themselves. Based in Schiedam, Netherlands, De Kuyper produce much more than just their own De Kuyper Cocktail Liqueurs. They are furthermore in charge of the well-known and cherished Peachtree, Cherry Heering and Mandarine Napoléon liqueurs, among others.
Besides the many liqueurs, Rutte Gin and Genever form part of the De Kuyper portfolio as well. Both are family businesses with long lasting traditions. Natural synergies let them benefit throughout the world of bartending and mixology. Because after all, this is what De Kuyper stand for: developing quality products for bartenders and with bartenders around the world to "own the cocktail" together.
New De Kuyper Liqueurs launched
There could not have been a better display of De Kuyper's professional approach than the new products launched at BCB.
MUYU: De Kuyper X Bartending All-Stars
Again: For Bartenders and with bartenders, I said. The new MUYU liqueurs are just that. In collaboration with three of the world's best known mixologists, De Kuyper created a modern liqueur trio:
All three products have been developed together with the De Kuyper master distillers, seeking to further increase liqueurs' attractiveness among mixologists world wide. Therefore, the developers followed an approach which is rather known from the perfume industry and incorporated more unusual ingredients, all sustainably sourced in the Amazon. All this results in a range of products which individually smell like perfume artwork while part of the profits will go back to NGOs working in the Amazon region.
The products' launch in the UK and Netherlands earlier this year has been a success story. Now they will be available in Germany as well and I'm actually looking forward to play around with them myself. For more information about MUYU and the story behind these three, here is the official De Kuyper press release.
Inspired by the work with Kratena, Berg and Caporale, De Kuyper joint forces with yet another two absolute LEGENDS of the cocktail industry to create even more signature liquids.
Acqua Bianca – by Salvatore Calabrese
Acqua Bianca has been developed together with Salvatore Calabrese. "The Maestro" does not need any further introduction. He is one of the most brightly shining figures in the world of cocktails and mixing. His expertise about (but not limited to) Negronis is nearly unmatched. Everybody who is at least a bit into cocktails knows and loves this true Italian gentleman.
As The Maestro says, his creation doesn't really fit into any existing category. Three different types of lemons and mint are dominating the nose and mouth feeling. The very first smell made me think of a minty limoncello, but with really delicate and not too overwhelming aromas.
Judging by the pictures you can tell that Salvatore Calabrese was happy and proud to launch his new co-creation together with many friends of the De Kuyper family and beyond – he never ignored when a camera was pointing at him. A great entertainer, very funny and humble at the same time.
Reminder to myself: When Salvatore Calabrese reminds you to make sure he looks good in all the pictures with a wink and then asks you to step in front of the camera yourself, because "you look much better anyway", that's humbling and may have you consider to finally reveal your face. But then again you realize he's just Italian after all and obviously knows how to make you feel humbled. So here is my post-Maestro-ego-boost "selfie":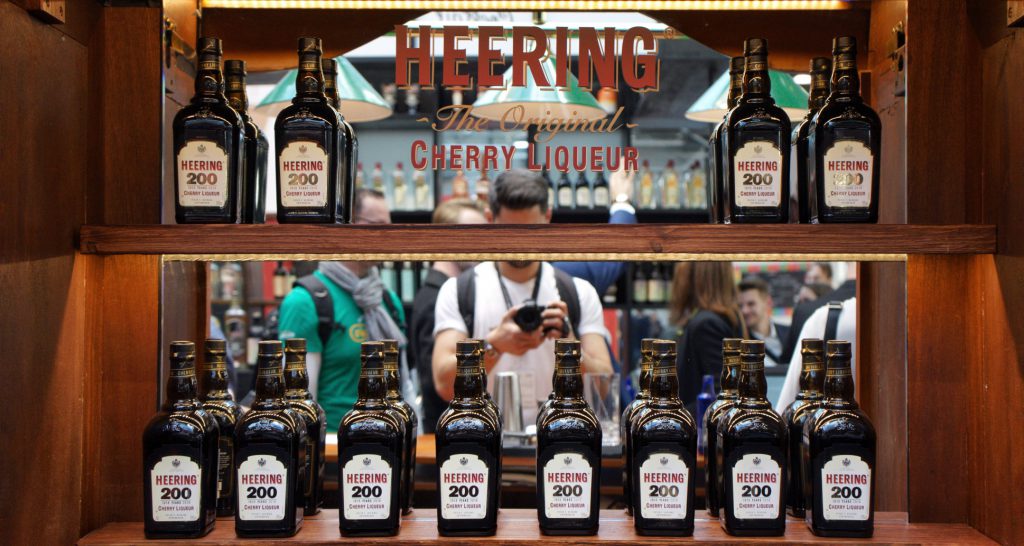 Dutch Cacao – by Joerg Meyer
"We didn't just want to create a new créme de cacao, we wanted to create the best céme de cacao in the world!" – Mr. Meyer is a living legend and never settles for the second best. His attitude and striving for perfection lead to "Dutch Cacao", an intense cacao 'Eau de Vie' with spicy notes to it. Roasted cacao nibs and vanilla are sourced from Indonesia and combined with some ceylon cinnamon destillate by Rutte's Myriam Hendrickx, roughly 1 % Indonesian Arrak and beetroot sugar.
Mr. Meyer himself suggests using his Dutch Cacao in a Mariposa Fizz, Alexander Cocktail or Twenteeth Century Cocktail. I haven't tried these three yet but will soon stop by at his Le Lion bar here in Hamburg for the new menu. I did try it neat on ice, though, and can tell it was intense and tasty just like that. It would not to great surprise if this became yet another Meyer hit – "Ciao Cacao (Basil) Smash", anyone?
Important Sidenote: not just yet another marketing joke
At this stage I would like to get one point straight: even though some may think these joint liqueurs are "yet another marketing thing", trust me they are not. Both Salvatore and Joerg have long lasting business and – which is even more important – private relationships to De Kuyper and their CEO Mark de Witte. All of them are constantly persuing cocktail perfection which is exactly what they brought to life with their products. The evening event which followed the official launch was further proof to this for me.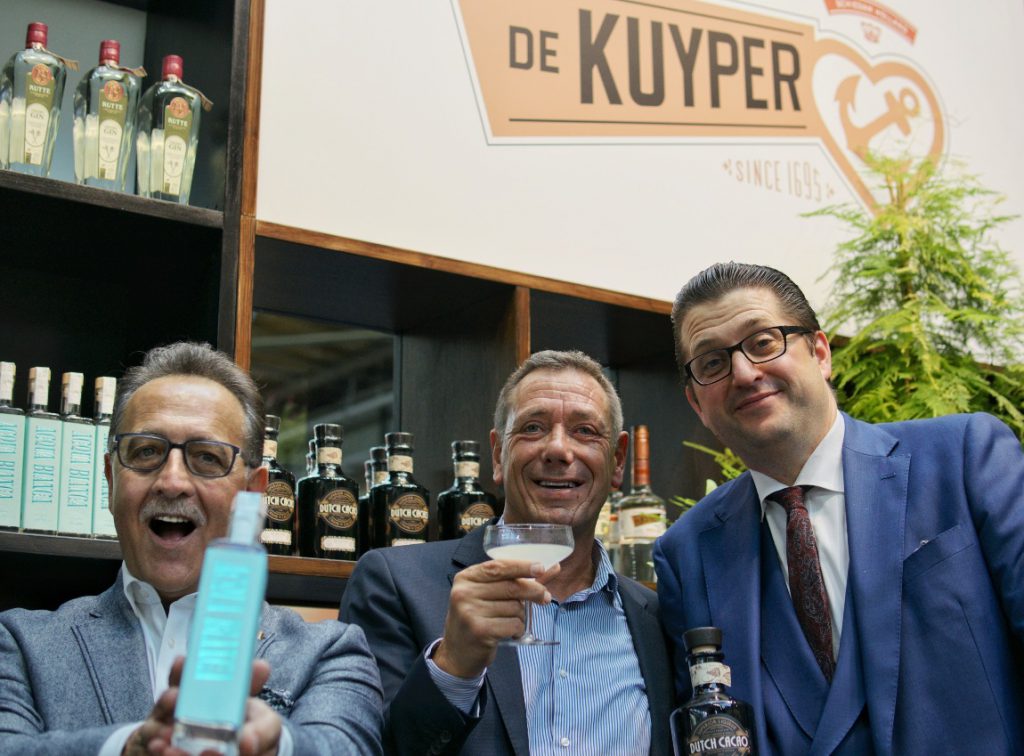 Food Pairing at Orania.Berlin
For the first night we decided against the many exaggerated mega-parties that take place during BCB and followed our friends' invitation instead. A nice little "Creative Kitchen Event" hosted by the Hotel and Bar "Orania.Berlin" in Berlin-Kreuzberg.
About Orania.Berlin
Orania.Berlin is a relatively young and very elegant luxury hotel in the middle of Berlin's pulsating area of Kreuzberg. While the neighbourhood is known for its cultural and social diversity, this hotel catches everyone's attention since its opening just two years ago. With its 41 rooms and a few suites the Orania is not a huge hotel. The creators really rather put their effort in all the details, chic furniture and materials sourced from around the globe and know how to impress with delicious food and drinks. Thus the perfect location for a relaxed, casually fine dining and drinking experience after BCB day one.
Guest Shifts by some of the Best
While Orania's chef Philipp Vogel and his team prepared a variety of smaller plates, another Philip began to work his magic behind the bar: Philip Bischoff, Beverage Manager Four Seasons Bangkok (BKK Social Club). Together with his friend and former colleague from The Manhattan Bar in Singapore, Cedric Mendoza (now Head Bartender at Grain Bar, Sydney) and Kai Runge (Wolfram-Bar / Jaz in the City, Stuttgart), they served the corresponding drinks to each course.
While I took pictures and chatted to the industry and media guests during the event I missed most of the food. Except some meat balls and dessert. Both were really good so I cursed myself even more for not having tried the rest. On the other hand we managed to try pretty much all of the drinks on the special menu, plus a few more that weren't on there:
Happy Family – Thank you!
A day full of news, exciting encounters and a lot of learning came to an end just before midnight. I am happy that I was able to make this experience alongside my gin buddy Jan and want to thank Rutte and De Kuyper for this opportunity. Hope to see you soon in Hamburg, Dordrecht or Schiedam!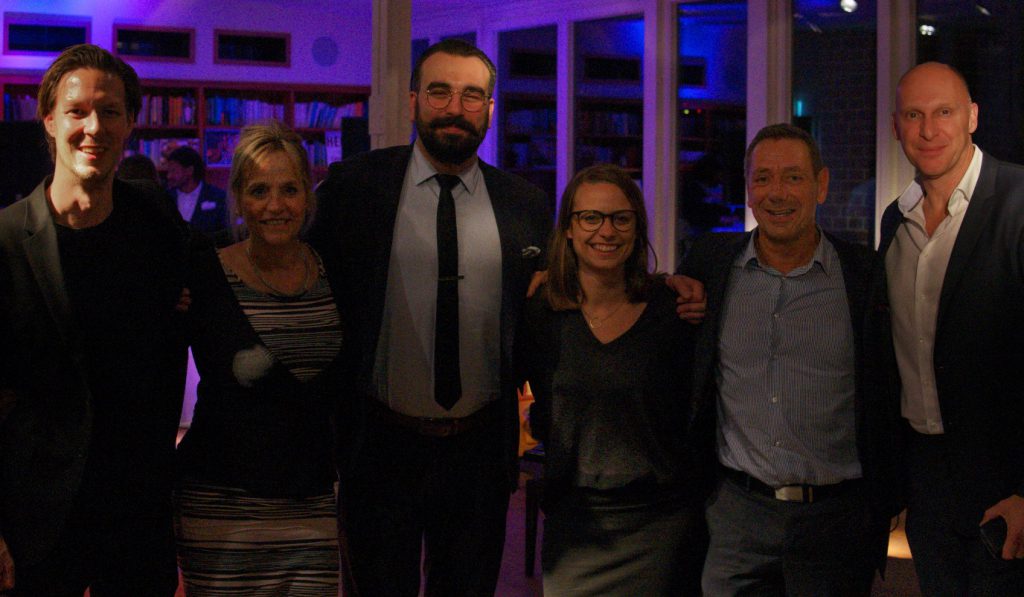 Disclaimer: I want to mention that Rutte and De Kuyper asked me to work with them in a paid collaboration this time. I thank them for their trust and the chance to report about them at BCB. The article you just read and the opinions I expressed, however, were in no way influenced by Rutte, De Kuyper or anybody else.