Day two of this year's Bar Convent was all about the world of mixers for us. More specifically, the great wide world of Fever-Tree Mixers, by now one of the globally most renown brands for tonic waters, ginger ales and more. As this day was FULL of things to see and report about, I will leave the general information about the brand for a different post and take you straight on to our journey instead…
Fever-Tree at Bar Convent Berlin 2019
The Garden
When I last visited BCB in 2017, Fever-Tree outdoor bar was one of the first things for me to notice. Placed right behind the BCB front doors, in the yard just before entering the main Hall 3. Jan (gingingin.de) and myself did not have to search for long this time, either. The "Tonic Terrace Bar" welcomed guests early for a refresher with or without alcohol, but definitely with some sunbeds to hang out on. Tuesday wasn't as sunny as day one, unfortunately. However, as we were basically on a mission this time, there would not have been much time for us to enjoy these anyway. Yet I can report that many other people did, no matter the weather conditions…
The Booth
The booth really followed the idea of the outside terrace, resembling some sort of garden/field with a lot of plants, wooden and grass materials. The first thing that caught my attention: the bottles! "The bottles?", you may ask. "Isn't this the most natural thing to see here at BCB?" – well, yes and no. If you are living in Germany you may have noticed some significant differences between the German and international 200 ml bottles: while the international bottles are super sleek and elegant, the German versions need to be somewhat thicker and thus have less detail, all due to German legistlation (bottle deposit) and transport modes here. Well, thank you, Germany. Here at BCB, however, Fever-Tree sampled the international bottles as it is a 100% international trade show. Make sense and is – in my honest opinion – visually more appealing.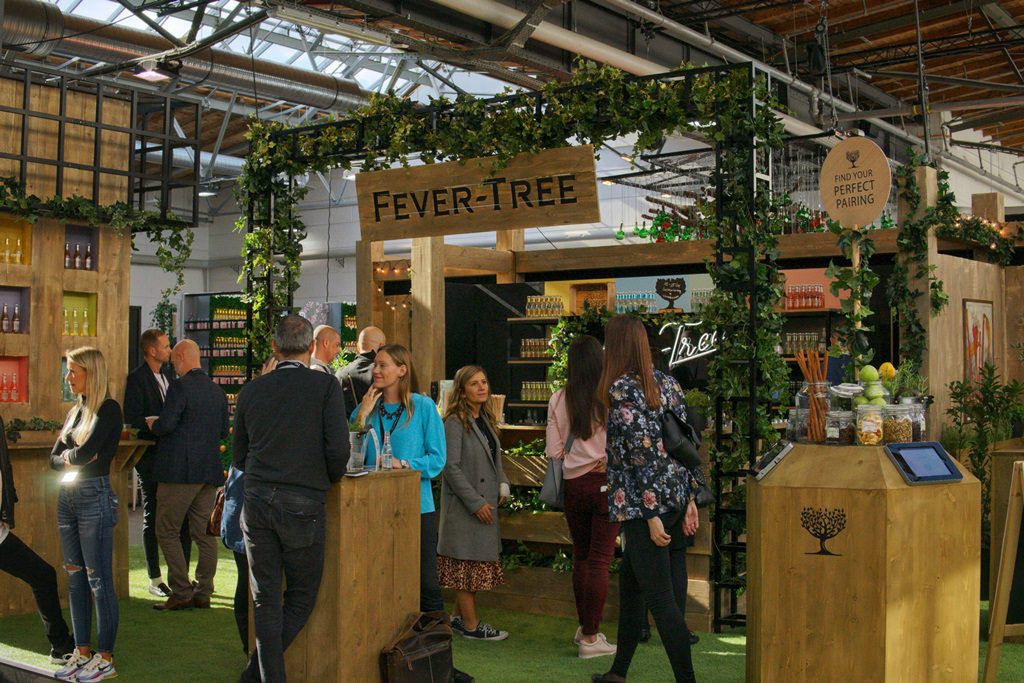 Fever-Tree Pairing Guide
While the brand didn't present entirely new beverages at this year's BCB, they did have a very cool thing to showcase here: their newly launched and fully interactive Fever-Tree Pairing Wheel. Now some of you may remember their 'original' pairing wheel:
That pairing wheel as such was an invention I personally found interesting. With literally thousands of gins in the markets, what tonic should we gin lovers potentially pair them with? In fact, it had been my intention when I first started blogging almost three years ago to suggest good G&T pairings. We know how far I got so I think it's safe to say that Fever-Tree did a fairly better job here… And yes, it makes absolute sense for them! The Fever-Tree range includes 15+ products, ranging from classic Indian to Citrus Tonic and even Madagascan Cola. What better way to put all these into the right perspective.
The brand now took their own idea a step further by introducing interactiveness to their pairing guide. There are three different ways to start your quest for a perfect G&T:
Search by Mixer: Select your favorite Fever-Tree tonic, ginger ale or else and get a broad variety of gins to pair it with. This was especially helpful as Jan and myself wanted to try out some of the mixers which were new to us as the are not (yet) available in Germany.
Search by Spirit: Or better, "search by gin". I can easily imagine that there will be more (spirits) to come beyond our beloved juniper fluid. Nothing confirmed yet so let's stay patient. Anyways, this option comes really handy to any gin enthusiast when acquiring a new one for the collection without knowing what mixer it could best go with. With so many gins in the guide already and many more to be continuously added (far more than 100 already, number steadily growing!), this sounds like a promising option. And even if this doesn't fully convince you, there is my favourite option three…
Create your own Pairing Guide: No, you don't need to be a graphic designer to do this. Fever-Tree makes it easily approachable and helps you define your own taste: select your preferred G&T tasting profiles (herbal, earthy, floral, fruity,…) and how intense you like each of those. The magic machine does the rest and suggests you 10 perfect serves – now that's what I call artificial intelligence! 😉
Two more interesting features: to each "perfect serve", the application suggests an "alternative serve". Some of which I tried seemed a bit more conservative and thus may be an even surer guess. Lastly, it recommends the according garnish if you feel like pimping your G&T a bit beyond the regular.
Now that I've talked a lot about the whee/guide, you may want to check it out yourself. Good news, no need to wait until BCB 2020. Just follow this link and play around with the interactive Fever-Tree Pairing Guide: https://pairingguide.fever-tree.com/en-gb/
Guest Bartenders at the Fever-Tree Booth
The booth however featured more than the new interactive helping hand. There were real helping hands as well. Precisely those helping you to quench your thirst during these long BCB days – the bartenders. A range of (guest) bartenders got all the drinks ready here during the day. Among them were Stella Bouchette (Owner diemarkenbotschafter.com and 2019 Mixology Awards finalist for "Best Brand Ambassador"), Christof Reichert (Hotel Adlon Kempinski, Berlin, and 2019 World Class Germany Finalist) as well as Elaine Delgado (Bettola Cocktail Bar, Oslo). In addition to the regular pairings they brought own signature creations which all were worth a sin (let alone the names).
Christof Reichert's signature Drink "Trash or Techno"

… and Stella Bouchette's "Queen"
The Partners – Gin and beyond
Enough for the introduction, let's start with the actual safari! Roughly 60 spirits brands had selected Fever-Tree as their preferred mixing partner for BCB so there was a lot to discover. Or, as my buddy Jan put it in his blog post, it was impossible to go see them all. Nevertheless we did our very best to give you a glimpse at the immense variety…
Around the world with Fever-Tree Mixers
In order to get as many booth covered as anyhow possible we split up. My first stop then was Africa, more specifically Namibia: the cool people of Elephant Gin took their time to serve some signature drinks even early in the morning.
Next up for me was a virtual trip over to the UK. Pretty much blue in blue was my serve at the Southwestern Distiller's small booth, located right behind the Fever-Tree gardens. Tarquin's Cornish Dry Gin with Mediterranean Tonic, a sprig of thyme and a rich slice of pink grapefruit.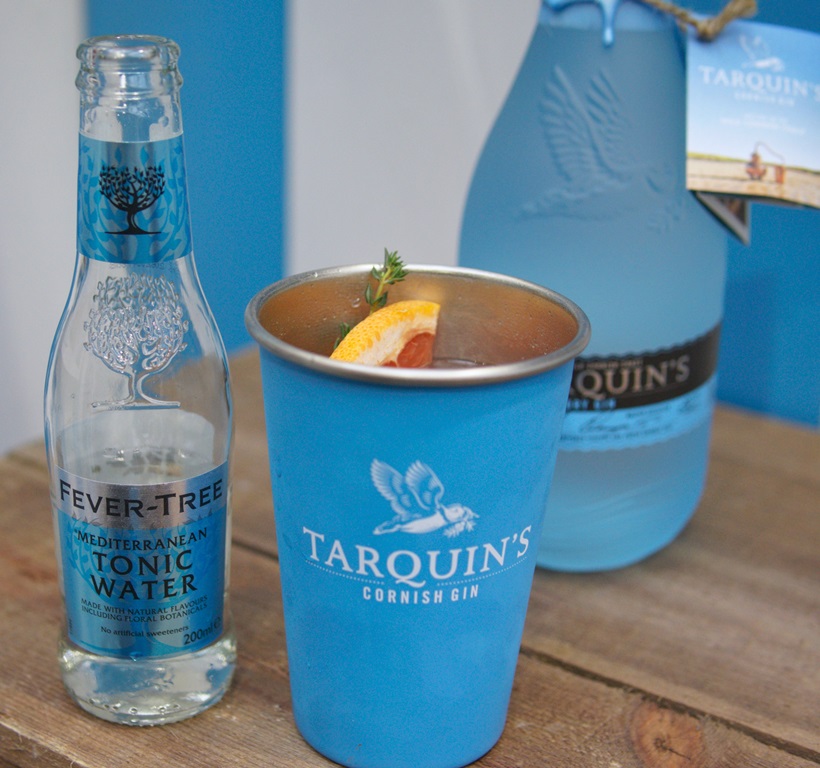 From England I headed to my Polish neighbours for the first gin-less serve. Flo of TeamSpirit/Diversa mixed a delicious "Warschau Mule" with the infamous Grasovska Bisongrass Vodka. 6 cl vodka, 6 cl apple juice, 2 cl lime juice, a bar spoon simple syrup and 2 dashes plum bitters were topped off with Fever-Tree's Ginger Beer and served with a zest of lemon and a sprig of rosemary.
Next stop: England (again). Or Iceland? Well, you me be aware of the story behind Martin Miller's Gin so I won't go into detail here. Much rather do I want to show you the impromptu cocktail which Oliver von Carnap created for me (specs may follow):
And furthermore…
Besides the many tasty G&T and cocktails that were prepared for us, I found three discoveries particularly noteworthy.
First, I had never tried (blame me) a rum with ginger ale. Back at the booth, our friends mixed a flavorsome Havana Club Especial with FT Ginger-Ale, a bit of orange and rosemary. Boy how tasty (and good looking) was this!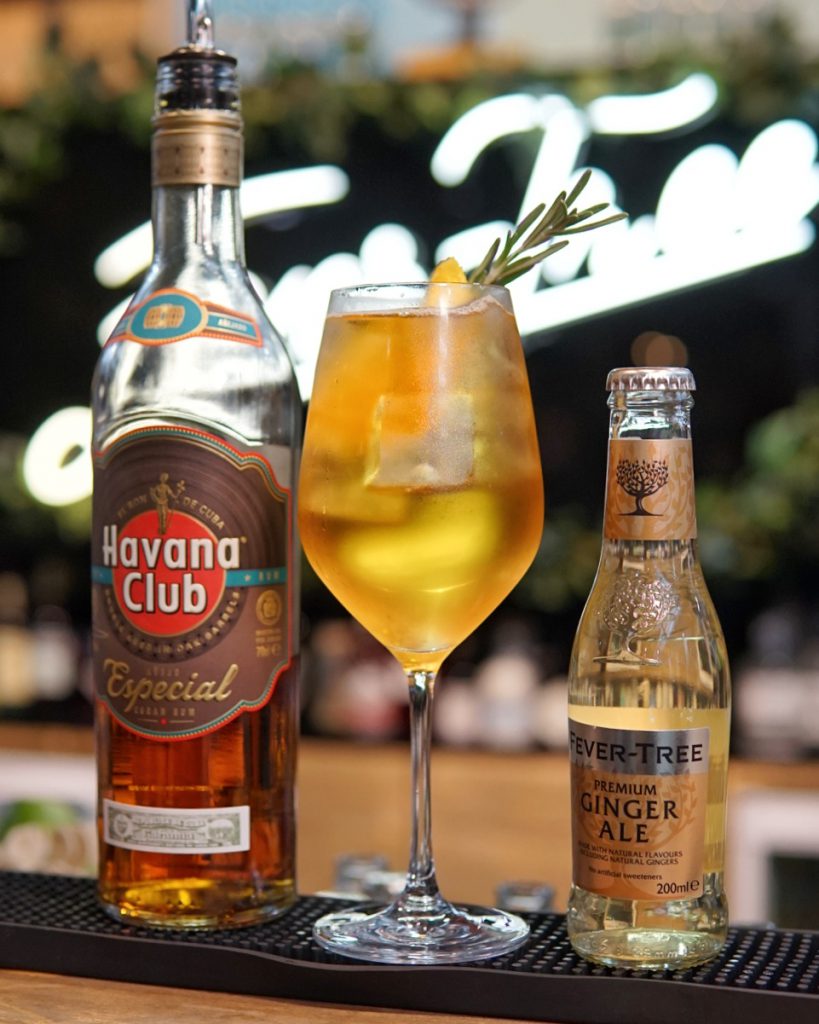 Second, we made our way to some low-alcohol sips, without missing the real G&T flavor. Impossible? Not for the people at Hayman's: they had just released the world's first "Small Gin" – and I fell in love! I'll report in more detail about it soon, just to let you know that the increase the intensity of botanicals in their 45% ABV gin by about 5 times. Consequently, one needs just a tiny little bit of gin, paired with the regular amount of tonic, in order to get a perfectly tasty G&T. Genius.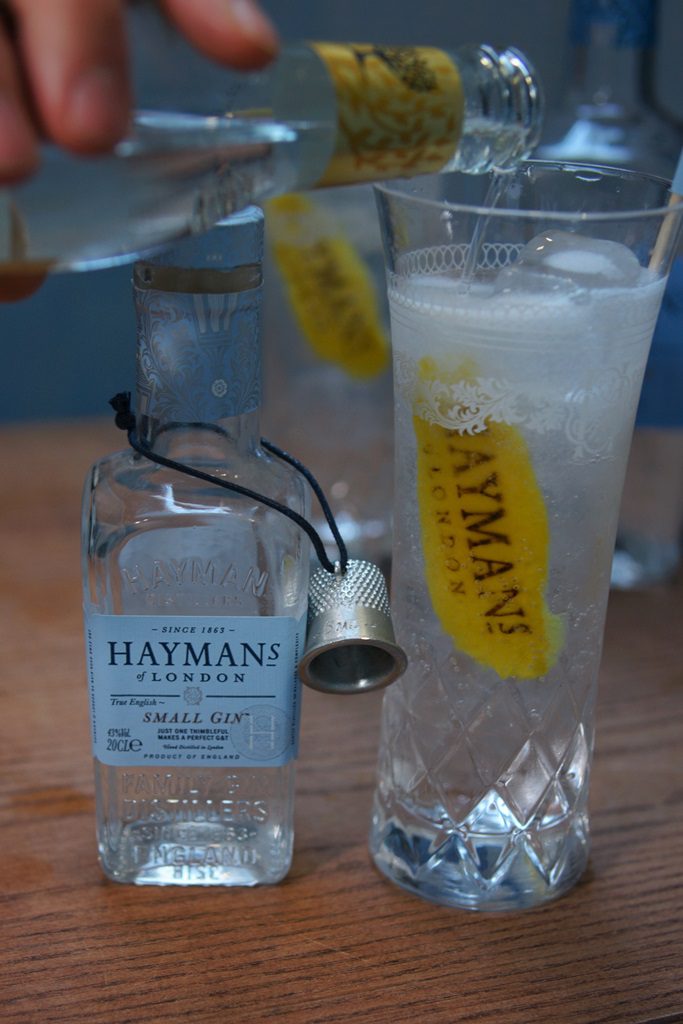 Again, I will be telling more about this invention in the foreseeable future.
What's last after LOW-ABV? Right, no ABV. And while I am personally still quite sceptic about the non-alcoholic "spirits" attempts so far, the people behind Seedlip have outdone yet again, with a trio of alcohol free bitters/aperitifs. Jan and myself took waaay too many pictures while we learned all about AEcorn so there will be extra room as well. However, you deserve a little sneak peek as you made it all the way through this abundant post: cheers!
Seedlip "Garden 108" & FT Indian Tonic

Mr. Howard preparing the Spritz (look at that ice!)

Æcorn Spritz
So far for now, I would say. As you can see (and read), day two was full of discoveries – and even more walking than day one! What you don't see is that there are a quadzillion more pictures waiting to be edited and shared. So stay tuned, refresh yourself with a nice G&T (or Rum&Ale) and check my Instagram once in a while…
Cheers and remember to #MixWithTheBest !